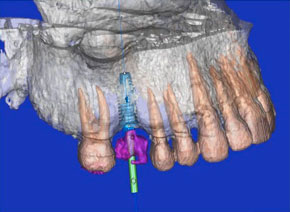 Dental implants are so advanced, they are like a second chance at having natural teeth. If you can relate to the debilitating loss of a tooth, or have a severely damaged tooth which may need to come out, there is hope for replacing your tooth with dignity.
Orlando Fl Implant Dentist | Winter Park
The dental implant process performed by Winter Park, FL dentist, Dr. Zachary Hodgins is a technological marvel. He uses computer based, CAT scan technology to virtually map out the exact placement of the implant. Then during the actual placement of the implant post, he follows the computer-guided plan, for perfect placement.
Your Perfect Smile Through Dental Implants
Once in place, the implant post bonds with the jaw bone, creating the strong anchor, unmatched by any other tooth replacement option. After the healing process, Dr. Hodgins can adhere a crown to the post of the implant, giving you a beautiful tooth that only you will know is not natural. These implants are strong, so you can smile, speak or chew with them just as you would with natural teeth. They are made of beautiful, lifelike materials giving them indistinguishable aesthetics.
Best of all, you don't have to remove them or alter what you eat. Live your life fully with dental implants that mimic the look and actions of real teeth. They are a wonderful advent of modern dentistry, artfully practiced by Dr. Hodgins.
Dental Implants and Sedation Dentistry In Orlando
Dental implants can be easier than ever to obtain with sedation dentistry. Dr. Hodgins is one of very few sedation dentists certified in IV sedation, so you will be extremely comfortable during every phase of your dental implant procedure. You are in good hands with this caring, capable dentist, and your smile deserves the best from dental implants.
For more information about dental implants, contact his Winter Park, FL dental office today!